Steinway upright pianos makes excellent instruments, it offers a fine firm touch and rich tone. Black, mahogany, rosewood, and sometimes walnut are the most common colours that you can find on a Steinway upright. Mahogany became a popular colour in the 1920s.
35% of Steinway uprights are Model V –  approximate dimensions: Height 125cm, Length 152,5cm and depth 67,5 cm.
55% of Steinway uprights are Model K; they are about 132cm tall, 152.5cm long and 68cm deep. Rosewood and black are the common colours from 1880 to 1920;  after about 1920 mahogany became common. Modern Steinway uprights from about 1960 are generally black polyester with about 5% in other colours, mainly mahogany and walnut. Note that many pre. 1900 Steinway uprights have 85 keys (up to A) rather than the usual 88 keys (up to C). However these extra three notes are rarely used and are not required for exam pieces.
10% of Steinway uprights pianos are other models such as N, E, or Z.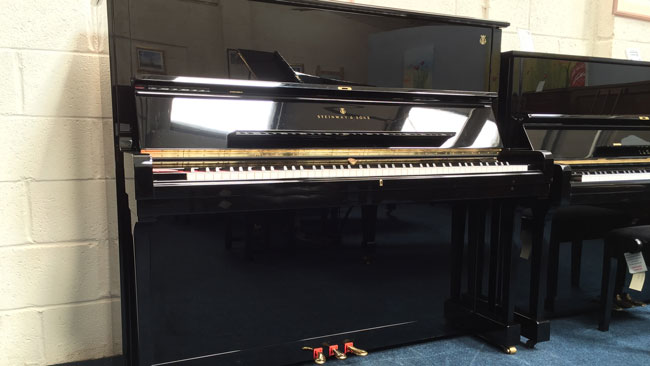 Steinway model K upright piano
I thought I would send you a few lines expressing my gratitude to you and your team
I thought I would send you a few lines expressing my gratitude to you and your team for the fantastic job they have all made in reconditioning my Steinway grand piano. The outcome is a beautiful piano, the rosewood veneer now looks just like it was over hundred years ago. Truly magnificent and the polishing by Mana was a great work of art. The high polish looks fabulous in the snooker/piano room. The interior again looks like brand new and is joy to behold. The sound is splendid, I just wish for the first time in my life that I had carried on with my piano lesson so that I could enjoy playing it now. To say I am pleased with the result is an understatement. The men who did the actual removal and reinstallment were extremely nice and very courteous I would be more than happy to recommend your Company at any time.
Robert Cranmer-Brown
Unlike other instrumentalists who can carry their instruments with them…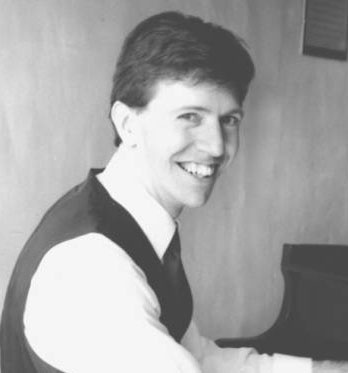 Unlike other instrumentalists who can carry their instruments with them, pianists are more reliant than most musicians on the people who maintain and care for the instrument. For that reason there has always been a strong relation between pianists and piano makers, technicians and tuners (e.g. Beethoven and Broadwood, Chopin and Pleyel, Liszt and Bechstein, Gershwin and Steinway, Richter and Yamaha, etc.). Oxford is really fortunate in having Marcus Roberts and Roberts Pianos. He has shown the same care and attention to the need of the professional pianist as any of these famous names from the past. For my annual Oxford Summer Piano Series Marcus went out of his way to make sure I had a superb instrument on which to prepare 8 taxing recital programmes while visiting the city, and his help has been invaluable. I would also not hesitate in recommending his business to the amateur pianist as much as the professional. All budding pianists, of whatever age and whatever level of skill, should always have access to the best instruments available, and Roberts Pianos, whose instruments are superbly maintained, is in a unique position to help.
Jack Gibbons
Smaller modern Steinway uprights (up to about 115cm tall) from the 1950s do vary in quality. In fact Steinway Hall in London didn't keep any in stock in the 1980s but rather had small Knight upright pianos instead. It is an excellent small upright, still available on the second hand market. At Roberts Pianos We generally have 3 or 4 Knight pianos in stock at a time, along with top quality Welmar uprights (when available). For a list of past and present Steinway Pianos in stock click here.