Blüthner was established in 1853 in Leipzig, Germany by Julius Blüthner. Blüthner grand pianos are know for having a smooth, light touch (especially in the older "patent" actions models), warm tone and aesthetically pleasing cabinet. Blüthner was the leading manufacturer of domestic pianos from around 1885 to 1910. You can use the dates and serials listed below to help date your piano. To find your serial number of your piano please see our find your serial number page
Year – SN.
1853 – 700
1855 – 1500
1860 – 2500
1862 – 4800
1865 – 6500
1868 – 8100
1870 – 9200
1875 – 13200
1880 – 18500
1885 – 25000
1890 – 31000
1891 – 32000
1892 – 34000
1893 – 36000
1894 – 39000
1895 – 42000
1896 – 45000
1897 – 47000
1898 – 49000
1899 – 52000
1900 – 55000
1901 – 57500
1902 – 60000
1903 – 62500
1904 – 65000
1905 – 67500
1906 – 70000
1907 – 72500
1908 – 75000
1909 – 78000
1910 – 81000
1911 – 84000
1912 – 87000
1914 – 90000
1915 – 94000
1916 – 95000
1917 – 96000
1918 – 97000
1919 – 98000
1920 – 100000
1921 – 101500
1922 – 103000
1923 – 105000
1924 – 107000
1925 – 109000
1926 – 111000
1927 – 112000
1928 – 113000
1929 – 114000
1930 – 115000
1931 – 115500
1932 – 116000
1933 – 117000
1934 – 118000
1935 – 119500
1936 – 120700
1937 – 122000
1938 – 123500
1939 – 124500
1940 – 125500
1942 – 126000
1943 – 127000
1946 – 128000
1947 – 128100
1948 – 128200
1949 – 128500
1950 – 128800
1951 – 129100
1952 – 129400
1953 – 129800
1954 – 130100
1955 – 130600
1956 – 131000
1957 – 131600
1958 – 132000
1959 – 132450
1960 – 133006
1961 – 135500
1962 – 136000
1963 – 136500
1964 – 137000
1965 – 137500
1966 – 138000
1967 – 138500
1968 – 139000
1969 – 139500
1970 – 140000
1971 – 140500
1972 – 141000
1973 – 141500
1974 – 142000
1975 – 142500
1976 – 143000
1977 – 143500
1978 – 144000
1979 – 144400
1980 – 144900
1981 – 145200
1982 – 145600
1983 – 146000
1984 – 146400
1985 – 146800
1986 – 147200
1987 – 147500
1988 – 147800
1989 – 148000
1990 – 148200
1991 – 186400
1992 – 148600
1993 – 148800
1994 – 149000
1995 – 149200
1996 – 149400
1997 – 149600
1998 – 149800
1999 – 150000
2000 – 150200
2001 – 150400
2002 – 150600
2003 – 150800
Use your serial number with the guide above to date your piano by finding the closest number to your own for example: My number is 785 then that would make the closest number 775 and my piano would date 1999 (you would always use the closest number below your serial serial number).
Finding Your Serial Number
---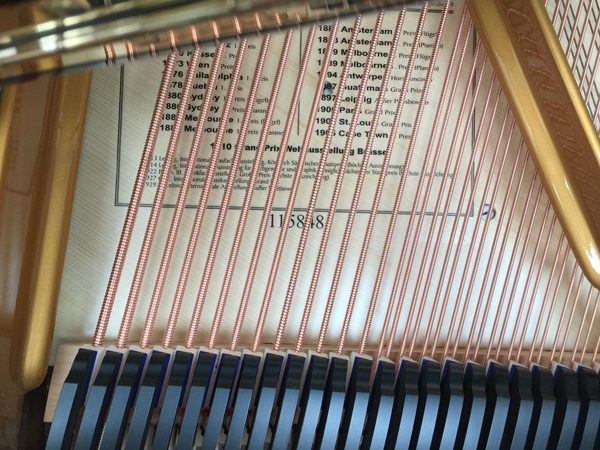 The serial number of a Blüthner grand piano can often be found on the left side of the soundboard.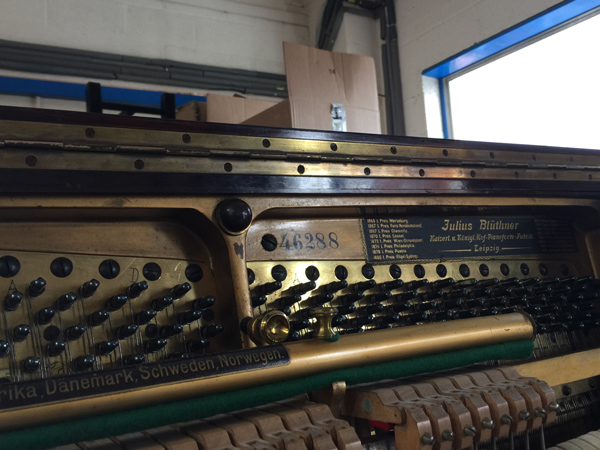 The serial number on a Blüthner upright piano can found the left side of the frame just above the tuning pins.