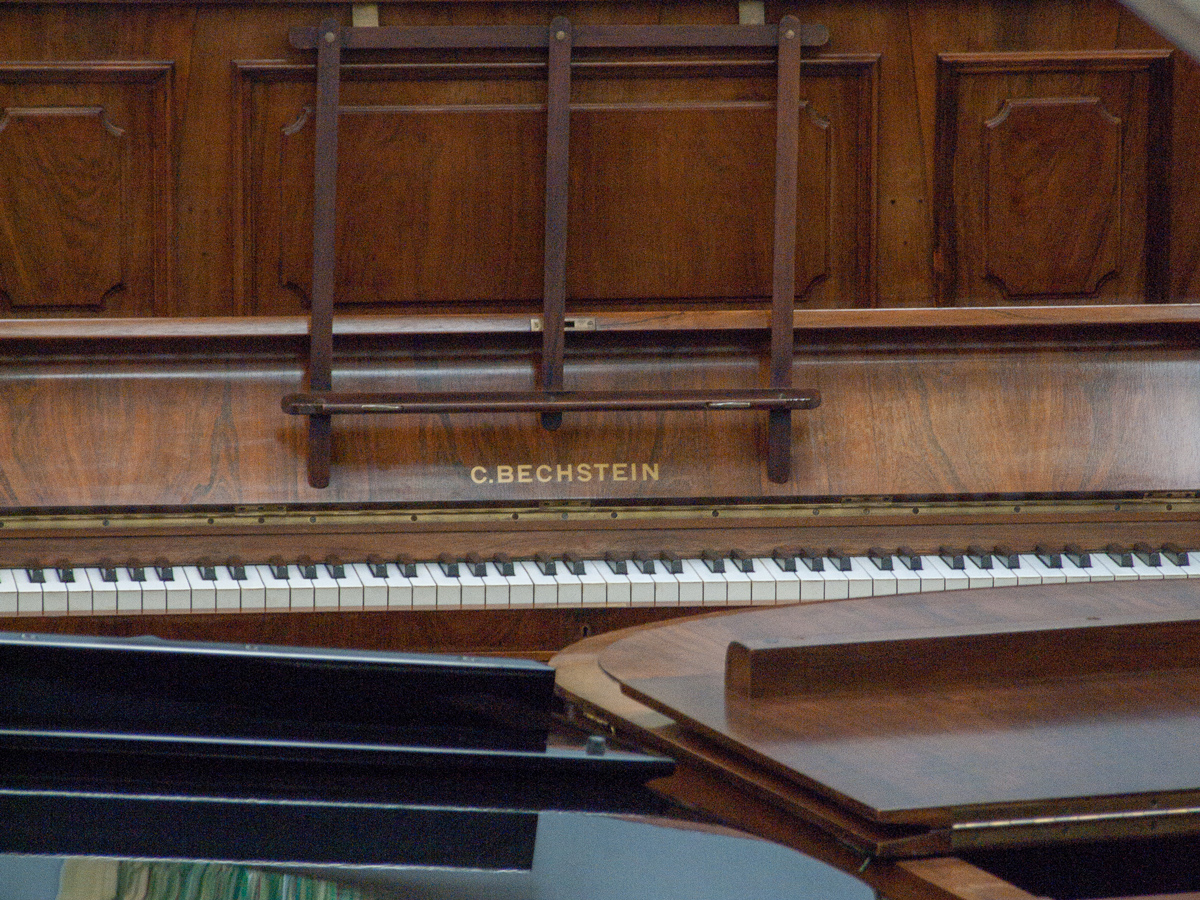 We normally stock at least three restored Bechstein upright pianos. If you're thinking of buying a professionally reconditioned Bechstein upright piano then you're getting a piano with a fine touch, rich tone and aesthetically pleasing cabinet. The most common colours are rosewood and black, and some walnut. Post 1920s ones are also mahogany.
Before and after: New wrestplank and repolishing: Bechstein upright 1901
---
Bechstein upright pianos found in the Uk
---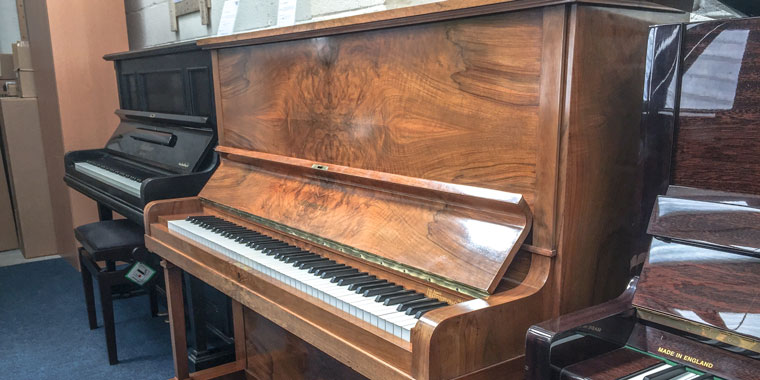 Bechstein model 8 in walnut
Models I to V (pre 1902) often need a new wrest-plank as the tuning pins go loose with central heating. With restringing this work costs £3500+VAT (2013). Reconditioned Models 6 to 10 generally don't need this doing, though it would be an improvement.
Table of Bechstein upright pianos in the Uk
---
| Model | Height | Comments |
| --- | --- | --- |
| I | 57 ½" (145cm) | With 88 notes, normally found in Rosewood or Ebonised (black) |
| II | 54 ½" (138cm) | 88 notes commonly available in Rosewood or Ebonised |
| III | 50″ (127cm) | 88 notes and is available in Rosewood, Ebonised, Walnut and Maple |
| IV | 48″ (122cm) | 85 notes and is Bechstein's smaller overstrung model, and available in various woods. |
| V | 50″ (127cm) | 85 notes and is Bechstein's straight-strung model, usually available in Ebonised or Rosewood, often with inlaid marquetry. Post 1902 |
| 6 | 57 ½" (145cm) | 88 notes, usually found in Rosewood or Ebonised (black). |
| 7 | 54 ½" (138cm) | 88 notes usually available in Rosewood or Ebony. |
| 8 | 50″ (127cm) | 88 notes and is available in Rosewood, Ebonised, Walnut and Maple. |
| 9 | 48″ (122cm) | 85 notes and is Bechstein's smaller overstrung model, and available in various woods. Small piano with good all round tone. We usually have two or three in stock |
| 10 | 50″ (127cm) | 85 notes and is Bechstein's straight-strung model, usually available in Ebonised or Rosewood. Pleasing warm mellow tone. We usually have two or three in . |