Find a serial numbers on an Upright Piano
---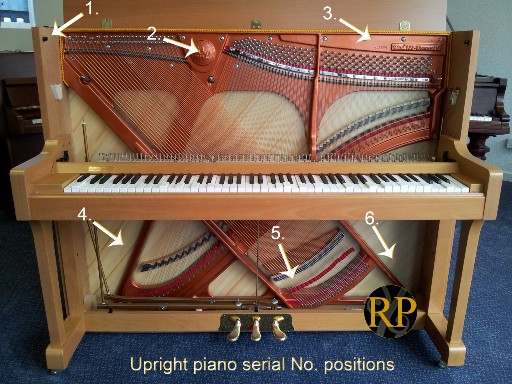 Common serial number locations on an upright piano
1. The side of the piano on the wood (either side)
2. Under the badge of the piano
3. Printed on the frame on the top right above the treble strings. This is the position for most modern pianos
4. On the soundboard, bottom left
5. Under the bridge (middle bottom)
6. On the soundboard (bottom right)
(Bechstein upright piano serial numbers are usually found at position 2 or 3)
Find a serial numbers on a Grand Piano
---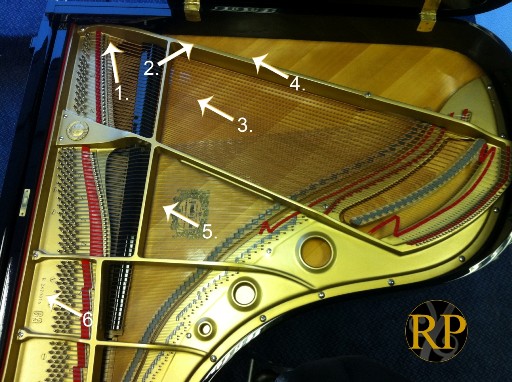 Common serial number locations on grand pianos
1. Some Broadwood grands have the serial number printed onto the frame here.
2. Next to the lid on the left hand side printed onto the soundboard. Bösendorfer and Chappell often have the number here.
3. Various models of grand have the serial number printed below the logo (decal) of the piano.
4. Some Bösendorfers have the serial number on the left hand side of the soundboard.
5. Below the treble strings. Some pianos have the serial number below the decal (logo)
6. Next to the tuning pins, just bellow the music desk on either the right or left hand side. Many modern pianos have serial numbers here.
SERIAL NUMBERS ON SPECIFIC PIANOS
---
On Bechstein and some Steinway grand pianos, the number underneath the piano is not the serial number. Its usually underneath the music stand, on the frame near the tuning block; between the bass and treble strings. This was often removed by restorers. If you can't find it, then please let us have the number under the piano instead.
Some Blüthners have the serial number printed below the decal in position 3. Thought older Blüthners and some other makes have the serial number underneath the decal on the soundboard.