We purchase Bechstein grand and baby grands as well as Bechstein uprights. We are especially keen on grands made between 1890 and 1935, and also some modern ones, upright models from 6 to 10 and modern ones. For more information on Bechstein pianos please click here If you are looking to sell your piano please click here (At this stage, you don't need to send any photographs, though they would be useful to assess more accurately how much your piano is worth.)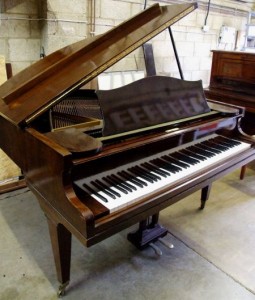 London Bechstein is a 4ft 9in baby grand piano, made from about 1920 to 1930 and designed by Max Poser, was thought to have been made by Welmar and has several similarities in construction (information supplied by Alastair Laurence). C.Bechstein was Founded in 1853 by Carl Bechstein. By 1900 Bechstein was producing over five thousand pianos anually. It was also the year that Carl died and his sons Johann, Carl and Edwin took the reigns of the Bechstein empire. The company was amongst Europe's best. It was only after 2 world wars and an economic depression that Bechstein was left almost ruined but was able to recover and rebuild itself. In 1963 Bechstein was brought by Baldwin pianos and later on in 1989 was brought by a skilled dealer/technician called Karl Schulze who reorganised the company technically and financially bringing back the original craftmanship put into the first pianos. All 3 factories were sold an combined in to one up to date factory in Berlin with the hope of restoring the historic Bechstein standard of production. In the early 1990′s Bechstein bought up W.Hoffmann and Zimmermann (other piano makes) and has recently (December 2002) been bought up by Samick Musical Instruments Co. Ltd. All Bechsteins have Renner actions, European spruce soundboards, beech rims and 3 pedals are standard on their grand, baby grand and upright pianos. For a full range of second hand Bechstein pianos and other new and used pianos for sale click here.
Upright models V to I (pre 1902) often suffer from loose tuning pins due to the tuning block during that period not standing up to modern heating. These can be replaced at the cost of £2000 (2013).
The first stage of our piano valuation service, begins with an email containing the information below. Answer these questions as best as you can as that will help us give you a more accurate estimate. Please could you also let us know where you are located as we may be able to view the piano.
Details
Is it an upright or a grand piano?
Make of piano, height of upright or length of grand
(measured from the front of the keys to the back of the piano)
Serial number if available
How much use has the piano had, if known
Is the casework in original condition as far as you know
Brief comments on the condition of the piano in general
Send your email to info@robertspianos.com
Photos
The piano taken from the front slightly to one side (for grand pianos please make sure the lid is up and the music desk is shown) – Grand / Upright
About 10 hammers in the mid treble taken from above showing the indentation in the end of them – Grand / Upright
The strings and tuning pins taken towards from the middle, showing where the strings are wound onto the tuning pins – Grand / Upright
Any obvious defects
For a quote on your piano please click here with piano make, model, serial number, estimated age and pictures of the piano. Other makes of piano that we are looking for: Challen, Fazer (upright), Feurich, Gors and Kallman, Ibach, John Broadwood, Kaps (upright), Kawai, Kemble, Knight, Richard Lipp (grand), Sauter, Seiler, Steinway, Welmar,… Please enquire for other makes.