Grand Pianos
---
Introduction
This page is written to help draw your attention to the most important factors to consider when deciding which grand piano to buy.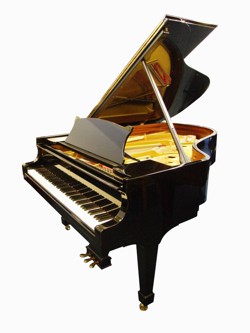 Steinway Model A (1987) grand piano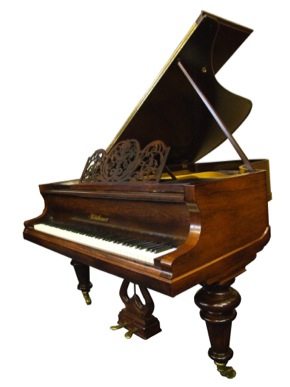 Blüthner style 9, grand piano c1890, in French polished rosewood with typical fretted desk and older style pedal lyre. Blüthner grand pianos c1880 – 1910 normally have a "Blüthner patent" action which is lighter to play than a modern one.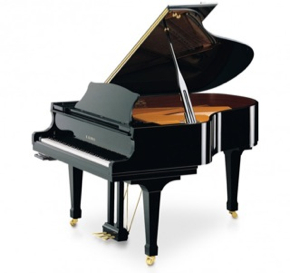 Kawai Rx-2 ATX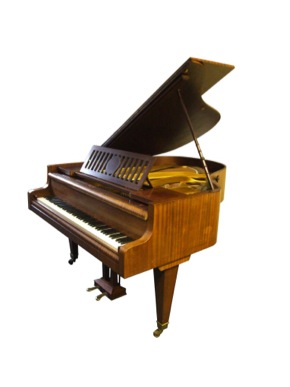 Bösendorfer 170 – Fine Austrian baby grand piano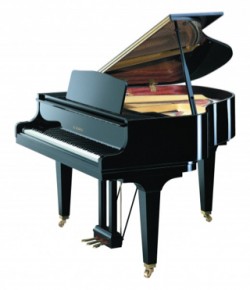 Kawai GM-10 Baby Grand Piano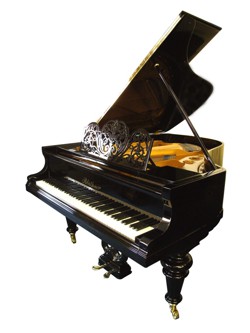 Fully restored Blüthner style 7 "Boudoir" grand Piano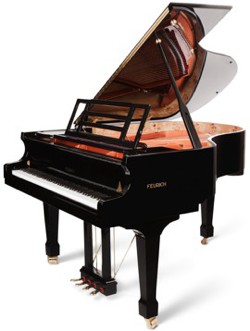 New Feurich 178
Are Grand pianos better than uprights?
The grand action has better control than an upright action, allowing the player more sensitivity. This is because the upright "throws" the hammer towards the string, whereas on a grand piano it is a "lifting" movement, so perfect control is maintained until the very last moment.
Also, most grand pianos have a repetition lever which holds the hammer near the string ready for the next time it is struck, this minimises the travel for the repeated blow.
Grand pianos over 4ft 10in in length have longer strings and a bigger soundboard than most uprights, giving them a richer tone.
The soft pedal is genuinely "una corda" in most grands, meaning that there should be a significant change in tone when used. Upright "soft" pedals (left pedal) only hold the hammers nearer to the strings preventing loud playing.
Whoever is playing can be facing the audience or other players instead of facing the wall.
The music desk is adjustable (except on some cheaper modern baby grand pianos such as the Yamaha GB1 or GP1) by sliding it forwards or backwards, accommodating both short and long-sighted people.
Finally most piano exams are taken on a good grand piano because the action is different and more sensitive, it's preferable to practice on one too.
Guide on choosing a grand piano
---
Are you tall? Is there enough leg room?
Leg room on pianos varies in height from 58 -70cm (Measure your leg from floor to top of knee!). Grands and small modern uprights are usually about 62cm from the floor to the under side of the keyboard. With grands, this can be increased by about 3cm by using glass caster cups; the angle of the pedals may then need adapting as these are raised up too. (A Yamaha U3 upright has leg room of 62cm whereas a German Steingraeber 118 and many Kawai uprights have 70cm and an older Blüthner 65cm. A small modern Zender has only 58.5cm!)
Do you need book holders?
If you use thick music books, then a couple of book holders can be fitted. Older uprights usually have them, but modern ones and grands usually don't. Most serious musicians require them.
Wooden Floors
It's most important to note that as the soundboard vibrates the sound that bounces back off a wooden floor, making the piano sound much louder then it does on carpeted flooring. If you're buying a soft toned piano such as an old style Blüthner then this may not be a problem. However if you're buying a bright sounding modern Yamaha or Bösendorfer then it's likely you'll need to put a rug under the piano, and may also need to introduce other absorbent material to the room such as drapes or tapestries. In this way you should be able to arrive at the ideal acoustic. IMPORTANT: if you have underfloor heating this can dry out a piano and you will either need to isolate it or humidify the room (see below).
Are Sostenuto pedal necessary?
By far the most common restored Steinway grand pianos are models O's, A's and B's. They vary enormously in quality and in how much they have been used, but generally older Steinway grand pianos have been used extensively and are therefore very worn. Reconditioning grands can also vary widely in quality so if you're buying a restored Steinway grand we strongly recommend having a Steinway trained technician to check it first.
What make of Grand Piano?
There used to be a saying "a Steinway for the concert hall, a Bechstein for the theatre and Blüthner for the home." There is a lot of truth in this, as Steinways generally aim for a big powerful tone, Bechsteins for a more subtle tone but still quite powerful, and Blüthner very much more mellow, usually with a lighter action. These are the most common of the fine German makes. IMPORTANT: If you want a piano to seriously study for an exam then you will need a heavier touch than most older pianos have. Touch weight has increased over the years by as much as 30%. However, if you are an occasional player then the lighter touch of an older or a played on modern piano is often better as it is less strenuous.
Underfloor heating – beware!
Recently (2013) we have been out to several pianos that have been badly damaged by under-floor heating. If you do have this system of heating then the best solution is to isolate it from the area near the piano. Please contact us for further advice on how to do so.
Types of grand pianos
---
Baby grand pianos
These are loosely defined as being from 4ft 3in to 5ft 8in in length.The best used makes of baby grand pianos are, in rough order of availability: Blüthner, Yamaha, Steinway, Kawai, Welmar, Richard Lipp, Bösendorfer, Fazioli and Steingraeber. There are other excellent makes but they are less common in the UK. Please see our list of common makes.
New baby grand pianos
We stock new baby grands by Kawai, Wendl & Lung and Feurich. The Yamaha GB1 is 4ft 11in but we don't recommend this piano as it doesn't have an adjustable music desk.
Used baby grand pianos
The name "baby grand" is thought to have been coined by the English firm Challen. Challen are by far the most common make of very small baby grand pianos from 4ft 3in to 4ft 6in. These are mostly mahogany but there are some in figured walnut which is currently very popular. Challen baby grands are varied; the cheaper ones have "simplex" actions which are not so responsive as the normal "roller" actions. Allison, Chappell, Cramer, Broadwood, Rogers and Steck are also very common. These baby grand pianos are more varied in quality but can also be good. There are hundreds of other makes of baby grand pianos too, but we've listed the most common good ones available in the UK.
Boudoir Grand Pianos
From about 5ft 9in to 7ft. The longer ones are sometimes called "Drawing Room grands". These have longer strings and a larger action, so they tend to sound and play better. The best restored makes of boudoir grand pianos are, in rough order of availability are: Yamaha, Bechstein, Steinway, Bluthner, Bosendorfer, Kawai and Fazioli. These are far superior to cheaply made modern grand pianos.
New Grand Pianos
We don't recommend most new grands which sell for up to about £12,000 RRP, as they tend to be of inferior quality and can develop problems after a few years. There are a few exceptions to this, and we currently have in stock new pianos from Feurich, a serious Austrian/German firm and the Japanese firm Kawai.
Concert Grand Pianos
From about 7ft 2in to 9ft 6in. Manufacturers always put a lot more time and effort into making concert grand pianos, also employing their top technicians to work on them. They have long strings and a large action, so sound and play powerfully. The best restored makes of used concert grand pianos are, in rough order of availability: Steinway, Yamaha, Bösendorfer and Grotrian Steinweg. There are many other good makes of concert grand, notably Steingraeber and Fazioli, but we've listed the most common.
German and Japanese grands
---
Modern German Grands (post 1950)
These are much less common on the second hand market. The best ones that come up relatively frequently are: Steinway models O (5ft 10in) and B (6ft 11in). Model M (5ft 7in) and model S (5ft 1in) baby grands are good but not so common. For full details see the Steinway website. Avoid modern Bluthners made from about 1960 to about 1990 as these were made in East Germany while Germany was divided util just after reunification, and the materials used are not always good.Other less common modern German grands are (in order of availability) Bechstein, Bösendorfer, August Förster (not recommended – too variable), Ibach, Zimmerman (not recommended), Schiedmayer and Schimmell. Please inquire if you'd like further information about any ot these.
Other common quality German grand pianos
Bechstein models V and IV grand pianos which pre-date the models A, B and C are also very common. Please see the Bechstein page for details. Richard Lipp grand pianos are also excellent. The most common are the 5ft and 5ft 8in baby grands.
| Make | Model | Length | Year | Un-Restored | Restored | Comments |
| --- | --- | --- | --- | --- | --- | --- |
| Challen | N/A | 4ft 3in to 6ft | 1915-1960 | £300 – £1,000 | £3000 – £6500 | Usually mahogany or walnut. Very varied. The best have a bright singing tone |
| Chappell boudoir grands | B | 5ft to 6ft 10in | 1895 – 1915 | £400 – £1,200 | £5000 – £8,500 | Usually figured rosewood. Attractive with rich bright tone and smooth action |
| Chappell baby grands | N/A | 4ft 6in to 5ft | 1920 – 1935 | £400 – £1,000 | £4,000 – £6,000 | Usually mahogany. Consistently fine strong tone for a baby grand |
| Broadwood baby and boudoir grands | Extremely varied | 5ft to 8ft | 1890 – 1940 | £500 – £1000 | £4000- £12,000 | Pre 1890s ones very common and best avoided unless very well reconditioned. 1890 to 1910, some excellent ones,especially the "Barless" grand. Of this make you will find some of the best and some of the worst secondhand pianos available.Broadwood also made some of the most beautiful looking grands. |
| Bosendorfer grand | 170 | 5ft 7in | 1915 – 1940 | £4000 – £5000 | 14,000 – £25,000 | Usually black or mahogany |
| Steck | A | 6ft 2in | N/A | £300-£800 | £2,500 £4,000 | Other English makes of grand and baby grands which we don't often buy and sell Older ones (1900 – 1915) can be excellent. 1920s and 30s ones vary and often develop loose tuning pins. |
| Cramer | N/A | N/A | N/A | N/A | N/A | Well made baby grand |
| Allison | N/A | N/A | N/A | N/A | N/A | Well made baby grand |
Yamaha and Kawai grands
These are the two most common makes of good Japanese grand pianos. Yamahas are by far the most common good grand piano on the world market. For details of Yamaha grand pianos please see the Yamaha page. Older Yamaha and Kawai grands from about 1970 to 1985 are excellent and more consistent than more recent ones, with the exception of the top of the range newer ones which are also excellent. Grand pianos can be rented at 3% of the purchase or 5% with option to purchase. Click here for our rentals page. For all new and used grand pianos for sale, see our stocklist.
Rough price guide
---
Rough price list for traditional used grand pianos
Here we list the most common German and English grand pianos, in rough order of availability in the UK. For a comprehensive list of the most common makes of grand piano available in the UK please see the restoration page.
| Make | Model | Length | Year | Un-Restored | Restored | Comments |
| --- | --- | --- | --- | --- | --- | --- |
| Bechstein | A | 6ft | 1902 – 1925 | £1,200 – £3,500 | £12,000-£18,500 | Usually black or rosewood. A beautiful all round grand with a smooth action and rich tone. |
| Bechstein | B | 6ft 7in | 1902 – c1925 | £1,000-£3,500 | £12,000-£18,500 | Usually black or rosewood. A beautiful all round grand with a smooth action and rich tone |
| Blüthner boudoir grand | 5-8 | 5ft 7in- 7ft 2in | 1880-c1915 | £1,000-£2,500 | £10,000 – £19,000 | Usually black or rosewood. Very rich warm tone, mellower than Bechstein. Smooth light touch |
| Blüthner baby grand | 4,4a,5 | 4ft 11in to 6ft | 1915-1935 | £2,000-£4,000 | £10,000-£18,000 | Baby grand usually mahogany, walnut or black. Warm silky tone and smooth touch. |
| Bösendorfer grand | 170 | 5ft 7in | 1915 – 1940 | £4000 – £5000 | 14,000 – £25,000 | Usually black or mahogany; fine pianos. |
| Steinway boudoir grand | O | 5ft 10in | 1877 – 1935 | £5,000-£8,000 | £15,000-£38,000 | Varied styles of casework though mostly rosewood and black. Powerful all round piano with rich tone . |
| Steinway boudoir grand | A | 6ft 2in | 1877 – 1935 | £5,000-£8,000 | £15,000- £37,000 | Deeper tone than model O |