15% discount on most of our acoustic stock! Please see our stocklists. Offer ends on 29/07/2017
Not applicable to rentals and certain pianos.
Comparison between Yamaha S6 and Steinway Model B grand pianos
Brief history of Yamaha pianos including models and prices
---
It's from 1966 that we first see Yamaha pianos in Europe. These early models sound the most like German pianos, with a good deep mellow tone throughout the range. They are more expensively constructed with top quality soundboards, excellent hammers, wooden pedal mechanisms on uprights and mostly wooden action parts. As the Korean and later the Chinese factories began to produce large numbers of pianos in competition with Yamaha, so the Yamaha piano started to be made more economically. Wooden parts were replaced by plastic or aluminium, though lately there has been a return to wooden action flanges. The tone also started to lack the rich depth that it previously had. The gradual brightening of tone is evident until about 1990, when Yamaha brought out what they called a hand-built piano, grands starting at £28,000 and uprights at £7,699. Yamaha now operate a two-tier system with top quality pianos made in Japan and their basic and mid-range grands and uprights made in Indonesia, the UK and elsewhere. For more information please view our main Yamaha piano page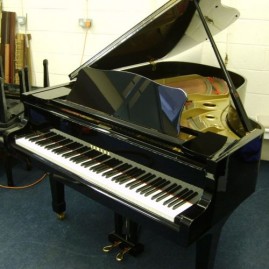 Buying a used Yamaha grand piano
---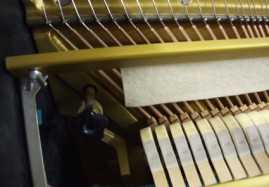 We've been selling Used Yamaha grand pianos for over 20 years and sell over 10 used Yamaha grands each year. They are carefully regulated, the bass strings are replaced if they have lost their tone. We then finely run some final checks before tuning them and guarantee them for 5 years.
The new Yamaha GB1 baby grand sounds reasonable at first but unfortunately shows up as not being well made when it comes to tuning and maintaining it. Economy has been the watchword in making this piano. They have also left out the hugely advantageous adjustable music desk which is standard on practically all baby grand pianos. If you're looking for a budget priced baby grand then you're much better off choosing a baby grand from the 1920s or 30s, during this time Yamaha were in competition to make the standard of baby grands to a very high quality; the baby grands are also a good choice if you have a small spaces. Baby grands also hold a good tone and provide good performance considering they are much cheaper. Alternatively, if you prefer to buy a new piano, we recommend the respected Austrian firm Wendl and Lung (merged with Feurich in May 2011, whose name they are now using). Their 161cm and 178cm grand pianos are finely designed and very well finished off.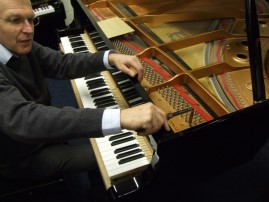 Roberts Pianos Yamaha S6B hand built 6ft 11in grand piano
Most common used Yamaha grand pianos in the UK in order of length:
---
| Model | Date of manufacture | Dimensions (WxHxD) | Colour | Weight | No. pedals |
| --- | --- | --- | --- | --- | --- |
| G1B | 1988 – 1990 | 148 x 101 x 160 | Black polyester | 285kg | 3 |
| G1E | 1990 | 149 x 101 x 161 | Black Polyester | 290kg | 3 |
| G2E | 1971 – 1985 | 148 x 101 x 169 | Black Polyester | 300kg | 2 |
| G2A | 1985 – 1988 | 148 x 101 x 169 | Black Polyester | 300kg | 3 |
| G2B | 1988 – 1990 | 148 x 101 x 169 | Black Polyester | 300kg | 3 |
| G2E | 1990 | 149 x 101 x 173 | Black Polyester | 300kg | 3 |
| G3E | 1971 – 1990 | 148 x 101 x 183 | Black Polyester | 310kg. 315kg (1990 onwards) | 2 (3 from 1990 onwards) |
| G3A | 1985 – 1988 | 148 x 101 x 183 | Black Polyester | 310kg | 3 |
| G3B | 1988 – 1990 | 148 x 101 x 183 | Black Polyester | 310kg | 3 |
| G3E | 1990 | 149 x 101 x 183 | Black Polyester | 315kg | 3 |
| G5E | 1971 – 1985 | 148 x 101 x 197 | Black Polyester | 330kg | 2 |
| G5A | 1985 – 1988 | 148 x 101 x 197 | Black Polyester | 330kg | 3 |
| G5B | 1988 – 1990 | 148 x 101 x 197 | Black Polyester | 330kg | 3 |
| G5E | 1990 | 149 x 101 x 200 | Black Polyester | 340kg | 3 |
| C3 | 1979 – 1985 | 148 x 101 x 183 | Black Polyester | 335kg | 2 |
| C3A | 1985 – 1988 | 148 x 101 x 183 | Black Polyester | 315kg | 3 |
| C3B | 1988 – 1990 | 148 x 101 x 183 | Black Polyester | 315kg | 3 |
| C3E | 1990 | 149 x 101 x 186 | Black Polyester | 320kg | 3 |
| C5 | 1979 – 1985 | 148 x 101 x 197 | Black Polyester | 357kg | 3 |
| C5A | 1985 – 1988 | 148 x 101 x 197 | Black Polyester | 330kg | 3 |
| C5B | 1988 – 1990 | 148 x 101 x 197 | Black Polyester | 335kg | 3 |
| C5E | 1990 | 154 x 102 x 212 | Black Polyester | 380kg | 3 |
| C7 | 1979 – 1983 | 155 x 102 x 223 | Black Polyester | 415kg | 3 |
| C7A | 1983 – 1988 | 155 x 102 x 223 | Black Polyester | 395kg | 3 |
| C7B | 1988 – 1990 | 155 x 102 x 227 | Black Polyester | 397kg | 3 |
| C7E | 1990 | 155 x 102 x 227 | Black Polyester | 330kg | 3 |