Modern Yamaha Upright Pianos
Please note we now supply new Kawai upright pianos which we consider to be equivalent or better than a Yamaha upright at the same price.
We stock used Yamaha upright pianos, mainly from 1965 – 1985. During this period Yamaha pianos all came out of Japan and were very consistent in tone quality. After that date they are increasingly made in other countries including the USA, UK, Indonesia and China and so quality varied. We have also found that Japanese Yamahas also begun to vary, notably the modern U3S and U5 range. See our used Yamaha pages for more details.
MODERN YAMAHA UPRIGHT PIANOS. Please click on the image for brief information on each model. Bear in mind we do not sell new Yamaha Uprights; this page only aims to inform you of Yamaha's range.
| | | |
| --- | --- | --- |
| | | |
| B1 | B2 | B3 |
| | | |
| P-116 | P-121 | SU-118C |
| | | |
| SU-7 | U1 | U3 |
| | | |
| YUS-1 | YUS-3 | YUS-5 |
| | | |
| SE-122 | SE-132 | |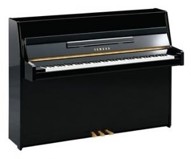 Yamaha B1
Information on Yamaha B1 Upright Piano
Specifications
Length
54cm
Width
149cm (4′ 10″)
Height
109cm (3′ 6″)
Weight
185kg (407 lbs)
88 keys, 3 pedals
Prices (2013)
Black polish:
£3,089
White polish:
£3,299
Simulated Mahogany polish:
£3,299
Simulated Walnut polish:
£3,299
Dark Walnut Satin:
£3,299
Natural Beach Satin:
£3,299
Natural Cherry Satin:
£3,299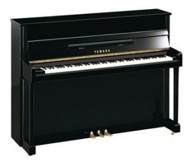 Yamaha B2
Information on Yamaha B2 upright Piano
Specifications
Length
53cm
Width
149cm (4′ 10″)
Height
113cm (3′ 8″)
Weight
194kg (427 lbs)
88 keys, 3 pedals
Prices (2013)
Black polish:
£3,779
White polish:
£4,039
Simulated Mahogany polish:
£4,039
Simulated Walnut polish:
£4,039
Dark Walnut Satin:
£4,039
Natural Beach Satin:
£4,039
Natural Cherry Satin:
£4,039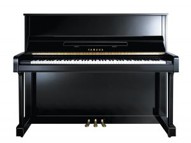 Yamaha B3
Information on Yamaha B3 Upright Piano
Specifications
Length
61cm
Width
152cm (4′ 11″)
Height
121 cm (4′ 0″)
Weight
237kg (522 lbs)
88 keys, 3 pedals
Prices (2013)
Black polish:
£4,419
Simulated Mahogany polish:
£4,729
Dark Walnut Satin:
£4,729
Natural Cherry Satin:
£4,729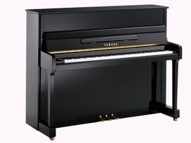 Yamaha P116
Information on Kawai P116 Upright Piano
Specifications
Length
58cm
Width
152cm (4'11″)
Height
116cm (3'9″)
Weight
213kg (470 lbs)
88 keys, 3 pedals
Prices (2013)
Black Polish:
£5,309
White Polish:
£5,689
Dar American Walnut Satin:
£5,689
Dark Mahogany Polish:
£5,689
Black Polish With Chrome:
£5,579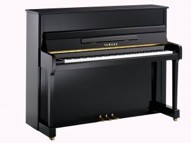 Yamaha P121
Information on Yamaha P121 Upright Piano
Specifications
Length
60cm
Width
152cm (4' 11″)
Height
121cm (3'11″)
Weight
226kg (498 lbs)
88 keys, 3 pedals
Prices (2013)
Black Polish:
£6,009
White Polish:
£6,429
Dar American Walnut Satin:
£6,429
Dark Mahogany Polish:
£6,429
Black Polish With Chrome:
£6,309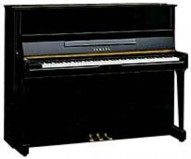 Yamaha SU118C
Information on Yamaha SU118C Upright Piano
Specifications
Length
59cm
Width
150cm (4′ 11″)
Height
118cm (3′ 10″)
Weight
230kg (507 lbs)
88 keys, 3 pedals
Prices (2013)
Black polish:
£11,449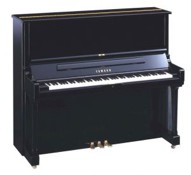 Yamaha SU7
Information on Yamaha SU7 Upright Piano
Specifications
Length
67cm
Width
154cm (5' 0″)
Height
131cm (4′ 3″)
Weight
273kg (601 lbs)
88 keys, 3 pedals
Prices (2013)
Black Polish:
£19,419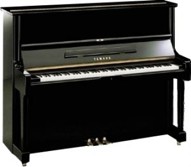 Yamaha U1
Information on Yamaha U1 Upright Piano
Specifications
Length
61cm
Width
153cm (5' 0″)
Height
121cm (3' 9″)
Weight
228kg (502 lbs)
88 keys, 3 pedals
Prices (2013)
Black Polish:
£7,629
White Polish:
£8,169
Mahogany Polish:
£8,169
American Walnut Satin:
£8,169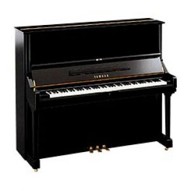 Yamaha U3
Information on Yamaha U3 Upright Piano
Specifications
Length
65cm
Width
153cm (5' 0″)
Height
131cm (4'3″)
Weight
235kg (518 lbs)
88 keys, 3 pedals
Prices (2013)
Black Polish:
£8,999
White Polish:
£9,639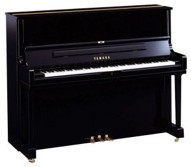 Yamaha YUS1
Information on Yamaha YUS1 Upright Piano
Specifications
Length
61cm
Width
152cm (4' 11″)
Height
121cm (3' 11″)
Weight
229kg (504lbs)
88 keys, 3 pedals
Prices (2013)
Black polish:
£8,829
Open Pore American Walnut:
£9,449
American Walnut Satin:
£9,449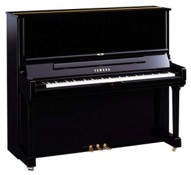 Yamaha YUS3
Information on Yamaha YUS3 Upright Piano
Specifications
Length
65cm
Width
152cm (4' 11″)
Height
131cm (4' 3″)
Weight
247kg (543 lbs)
88 keys, 3 pedals
Prices (2013)
Black Polish:
£10,349
White Polish:
£11,069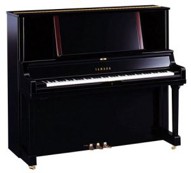 Yamaha YUS5
Information on Yamaha YUS5 Upright Pianos
Specifications
Length
65cm
Width
152cm (4′ 11″)
Height
131cm (4' 3″)
Weight
253kg (557lbs)
88 keys, 3 pedals
Prices (2013)
Black polish:
£11,239
Yamaha SE122
Information on Yamaha SE122 Upright Pianos
Specifications
Length
65cm
Width
152cm (4′ 11″)
Height
122cm (4' 0″)
Weight
241kg (531 lbs)
88 keys, 3 pedals
Prices (2013)
Black polish:
£12,946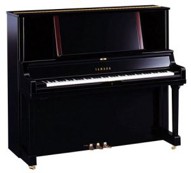 Yamaha SE132
Information on Yamaha SE132 Grand Pianos
Specifications
Length
65cm
Width
152cm (4′ 11″)
Height
132cm (4' 3″)
Weight
252kg (555 lbs)
88 keys, 3 pedals
Prices (2013)
Black polish:
£15,532