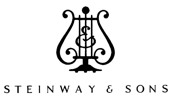 Steinway Pianos
Brief information on the best and most commonly available used Steinway grand and upright pianos in the UK:

We buy, sell and restore all types of Steinway pianos and will be pleased to quote for work on modern and old Steinways. Please note that Steinway grand pianos have a powerful tone and are designed to be played in a sizeable room with high ceiling (the model "S" made around 1925 is the exception to this, being of quieter tone) . If your room is small it may be better to consider a quieter piano such as a Blüthner.
Restored Steinway pianos, from 1877 to about 1950
If you're thinking of buying or restoring a professionally reconditioned Steinway piano then its worth knowing that they generally have a powerful rich tone and fine touch, with an aesthetically pleasing cabinet. The most common colours of Steinways available in the UK are approximately the following: 1877 to 1920: 60% Rosewood 30% black (ebonised) 10% other 1920 to 1950: 40% Rosewood 30% black 20% mahogany 10% other.
German or American? There are varying opinions even amongst top dealers and restorers as to whether the German or American Steinway pianos are the best, though quality control is generally reputed to be better in the Hamburg factory. In the UK about 95% post 1900 are German Steinway pianos. The American Steinway can be recognised as it generally has a square shaped "fall board" or "lid" over the keys, whereas the German Steinway fall board is rounded as in most makes of grand piano found in the UK. Also the German Steinway pianos are usually more mellow in tone and the American Steinways are more strident, though not the pre 1900 pianos as the German Hamburg factory began after the American one and developing their own characteristic was a gradual process. However, there are exceptions to these differences as hammers vary from piano to piano.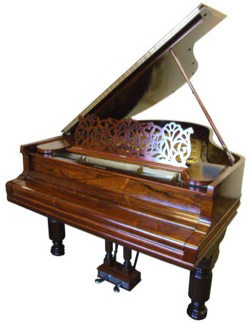 Steinway model A
How big is your room? Bear in mind that if you have a small room, particularly if the ceiling is low, then a Steinway grand or upright piano may be too loud. Blüthner grand pianos were the main high quality domestic piano in Europe from about 1890 to 1910 and were the main maker of exceptional small grands up to about 1935. We recommend restored Blüthner grand pianos as ideal for the smaller room. The most common softer toned top quality uprights available in the UK are Bechstein, Grotrian Steinweg and Blüthner.
Secondhand modern Steinway grand pianos in the UK
From 1951 to present day, Steinways are mainly found in black polyester. The ones made in the 1960s have a particularly rich warm tone; the key tops of these are normal.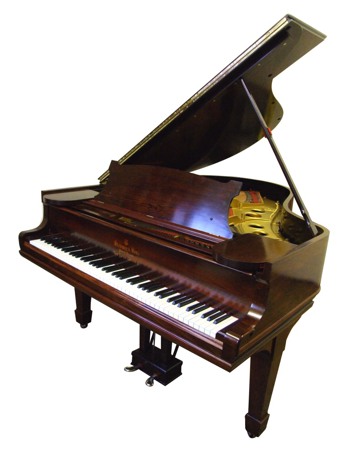 Steinway model O
Restoration of Steinway pianos
We are experienced restorers of Steinway pianos; they usually require at the very least new hammers and often restringing. If the piano is well used the action becomes slack and the springs weak; this then needs regulating. We are also traditional French polishers and are able to recreate the original finish or change the colour if required.
Restored Steinway grand pianos
By far the most common restored Steinway grand pianos are models O's, A's and B's. They vary enormously in quality and in how much they've been used, but generally older Steinway grand pianos have been used extensively and are therefore very worn. Reconditioning grands can also vary widely in quality so if you're buying a restored Steinway grand we strongly recommend having a Steinway trained technician to check it first.


Most common models of Steinway grand pianos in the uk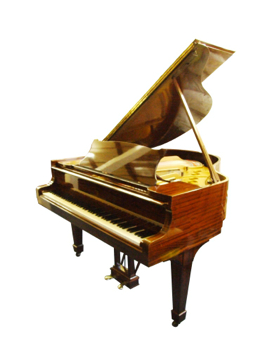 Steinway model S
Model O usually Rosewood or Mahogany. Earlier ones with turned legs and later with square tapered. Model O's are about 50% of all Steinway pianos available. The best have a rich, full and powerful tone
Model A Normally found in rosewood or mahogany, earlier ones with turned legs and later with square tapered. The best have a rich, full and powerful tone. (They make up for 20% of Steinway pianos)
Model B These are uncommon second hand pianos, and much sought after
Model D Concert grands; used ones usually need extensive reconditioning
Important
Note that if you buy a mahogany piano with a bright polyester finish, over time the wood will fade under the polyester and be impossible to restore without stripping the polyester. Therefore if buying a piano with a polyester finish it's a better investment to buy a black one. Turned legs and fretted music desks are found on most Steinway grand pianos up to about 1905. Thereafter square tapered legs and plain music desks are the most common.
Models Of Steinway Grand Pianos
| Model | Size | Year Introduced | (Follow links for further information) |
| --- | --- | --- | --- |
| S | 5'1″ | 1936 | Information |
| M | 5'6″ | 1911 | |
| M | 5'6″ 3/4 | 1914 | Information |
| M | 5'7″ | 1918 | |
| O | 5'10″ | 1900 | |
| O | 5'10 1/2 | 1914 | Formerly Manufactured in New York now manufactured in Hamburg from 1923. More information |
| L | 5'10 1/2″ | 1923 | Manufactured in New York. More information |
| A | 6'0 | 1878 | |
| A II | 6'2″ | 1896 | Formerly Manufactured in New York now manufactured in Hamburg from 1923. More information |
| A III | 6'4″ 1/2 | 1913- 1947 | |
| B | 6'8″ | 1872 | |
| B | 6'10″ | 1884 | Information |
| C | 7'1″ | 1861 | |
| C | 7'2″ | 1870 | |
| C | 7'3″ | 1884 | |
| C | 7'5″ | 1885 | Discontinued in 1913 but is occasionally produced in Hamburg from 1923. More information |
| D | 8'5″ | 1859 | |
| D | 8'6″ | 1869 | |
| D | 8'9″ | 1876 | Information |
| D | 8'10″ | 1884 | |
| D | 8'11″ | 1915 | |
Steinway upright pianos
If you're thinking of buying a professionally reconditioned Steinway upright piano then you're getting a piano with a fine firm touch and rich tone. The most common colours are black, mahogany and rosewood, and some walnut. After about 1920 mahogany becomes common.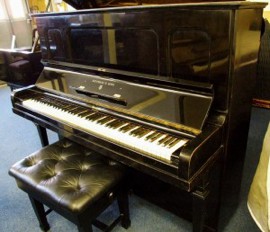 Steinway model K upright piano
General comment
Most used Steinway upright pianos for sale in the UK are pre-1900 and require extensive reconditioning. Dealers restoring Steinway grand pianos rarely restore uprights as all Steinways are "fussy" pianos and eat up much time in the reconditioning process. The older uprights take almost as long as the grands to restore, and they are therefore not an economical proposition for dealers. However, we are able to undertake restoration on all Steinway upright pianos including full action replacement. If you're looking for a fine older style German upright piano in the UK, you may be better considering the more simply designed Grotrian Steinweg, Bechstein, Lipp or other top make unless you can afford the restoration costs of the Steinway. However modern Steinway pianos (from about 1950) are more simply designed.
Brief description of all Steinway upright pianos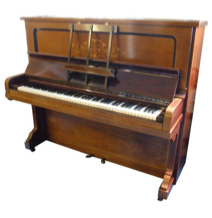 Steinway model V upright piano
35% of Steinway upright are Model V –  approximate dimensions: Height 125cm, Length 152,5cm and depth 67,5 cm.
55% of Steinway uprights are Model K; they are about 132cm tall, 152.5cm long and 68cm deep. The main colours from 1880 to 1920 are rosewood and black; after about 1920 mahogany becomes common. Modern Steinway uprights from about 1960 are generally black polyester with about 5% in other colours, mainly mahogany and walnut. Note that many pre.1900 Steinway uprights have 85 keys (up to A) rather than the usual 88 keys (up to C). however these extra three notes are rarely used and are not required for exam pieces.
10% of Steinway upright pianos are other models such as N, E, or Z.
Important
Modern smaller Steinway uprights (up to about 115cm tall) from about 1950 are very varied in quality. In fact Steinway Hall in London didn't stock any in the 1980s but rather stocked small Knight pianos, which are some of the best small uprights still available on the second hand market. We generally have 3 or 4 of these in stock, along with top quality Welmar uprights when available. For a list of past and present Steinway Pianos in stock click here.