Brief information on the best and most commonly available used Bosendorfer pianos in the UK. We normally have at least one Bosendorfer grand and one upright piano in stock. In our opinion a professionally restored Bosendorfer from about 1920 to about 2001 is one of the finest domestic pianos. If you're thinking of buying a Bosendorfer grand piano then they generally have a warm, powerful rich tone and smooth responsive touch, with an aesthetically pleasing cabinet. The most common colours are black and mahogany. They also do many "Art cases".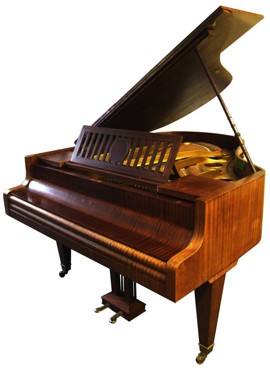 Recommended used Bosendorfer grand pianos in the UK: Generally In the UK there is about one Bosendorfer for every twenty Bechsteins, Bluthners or Steinways. Generally speaking older Bosendorfer grand pianos have been used extensively and therefore very worn. Reconditioning can also vary widely. Baby and boudoir grand Pianos: There are a few baby and boudoir Bosendorfer grands from 1900 to 1930, mostly black and mahogany. Warning! Older 5ft to 6ft Bosendorfers up to about 1900 often have what's known as a "Viennese" action. This is a very different design from the standard. They aren't really acceptable for all-round playing.(NB this is not to be confused with the "Strauss" model, which refers to a style of cabinet). Concert grand pianos. There are a reasonable number of modern Bosendofer concert grand pianos on the second hand market (about one for every 15 Steinways) . These vary from being well worn to hardly used. They are often unique, having extra notes in the bass. (More information to follow later.)
Most common Bosendorfer grand pianos in the UK: As previously mentioned, there are too few of these superb grand pianos in the UK. The most common are as follows: From 1920 to about 1965: Bosendorfer 170 (5ft 7in): Superbly engineered baby/mid size grand piano. You'll mostly find them from about 1920 to 1965. Used Bosendorfer 170s are mostly black, with a few mahogany ones. From about 1965 to 2000: modern Bosendorfer grands are from 170 to 290cm. These mostly date from 1960 to 2000. the casework of used modern Bosendorfers is nearly always bright black.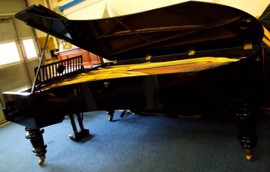 List of Bosendorfer grands
170 (5ft 8in) Fine grand with rich warm tone
200 (6ft 7in) As above with deeper tone. This is the most common of post 1965 Bösendorfer grands
228 (7ft 6in) As above but deeper tone.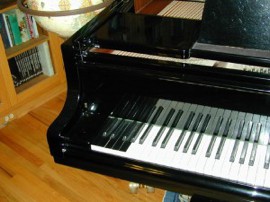 Concert Bösendorfer Imperial models
275 (9ft) This model has 92 keys and is superbly engineered with a warm rich deep tone. Highly recommended.
290 (9ft 6in) The longest concert grand, and with 97 keys. Very similar to the 275.
228 (7ft 6in) As above but deeper tone.
Bosendorfer upright pianos: The most common Bosendorfer upright is 130cm tall and ranks as one of the best uprights ever made. Very few Bosendorfer upright pianos are available in the UK so you may be frustrated trying to find one; we get one or two into stock each year. If you're thinking of buying a professionally reconditioned Bosendorfer upright then you're getting a piano with a very refined touch and warm subtle tone. The most common colours are black (95%) and mahogany.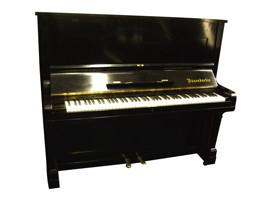 Recommendation: As there are so few Bosendorfer upright pianos in the UK, if you're looking for a fine German upright piano you're more likely to find a Grotrian Steinweg, Steinway, Bluthner, Bechstein, Lipp or other top make (see our "common makes in the UK" page). However if you have your heart set on a Bosendorfer then you could rent or buy one of these other makes while waiting for a Bosendorfer to come into stock.