Blüthner Grand Pianos We normally stock at least three restored Blüthner grand pianos and an upright (good Blüthner underdamped uprights are not common). If you're thinking of buying a professionally reconditioned Blüthner grand piano then you're getting a piano with a smooth, light touch (especially in the older "patent" actions models), warm tone and aesthetically pleasing cabinet. Blüthner was the leading manufacturer of domestic pianos from around 1890 to 1915, having ideal acoustics for the home, being not too forceful a tone and also having a light to medium smooth touch. The information below assumes the pianos to be fully reconditioned.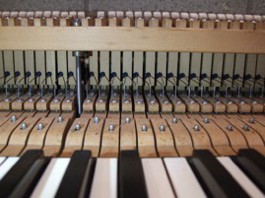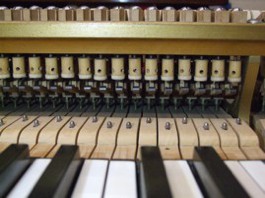 Main categories of Blüthner grand pianos:
Blüthner patent action photo taken of a Blüthner style 8 grand. Blüthner patent action (See right) These are the older ones dating from about 1880 to 1924. The action is simpler in design than the normal roller action found in nearly all other pianos. It has the advantage of being smoother,usually lighter. The action doesn't repeat as fast as the roller action, but this is not very noticeable in normal playing. The most common colours are black (40%) and rosewood (60%). They mostly have turned legs and a slatted or fretted music desk.
Standard roller action these start from about 1914 onwards though most are from 1925. By far the most common is the style 4 baby grand, 4ft 11in, which is one of the best baby grands ever made. It has a smooth touch and fine "silky" tone. They are simple in style with plain music desk and square tapered legs. These cost about £3000 to £5000 (2011) unrestored and we sell them reconditioned from around £9500 to £18,500 (2011) fully restored and custom re-polished. We normally have one or two style 4 Blüthner baby grands in stock, though they are in great demand and becomming hard to find.
Important note: many Blüthner style 4 baby grands from 1920 to 1939 need to have the "action standards" replaced as they form fissures and bow outwards, making correct regulation impossible. This work and action regulation costs about £1200+VAT (2013) provided someone has not previously attempted to repair the regulation without first replacing the standards. This second scenario is normally the case, so the piano needs re-regulating and the cost will then be around £2200 +VAT (2013).
| Style | Comment |
| --- | --- |
| 5 | Rich tone with patent action; Turned legs and fretted or slatted music desk.(5ft 9in) |
| 6 | Blüthner grands are far less common than the 190cm 6ft 3in.(5ft 9in) |
| 7 | One of our favourite Blüthner grands. Most are rosewood or black. They normally have a patent action (see above). Warm rich tone with superb bass and singing treble and tenor. |
| 8 | The same as style 7 but with Aliquot stringing (see photo) |
| 9 | Rich tone with strong bass. Aliquot stringing |
| 10 | Small concert Grand |
| 11 | Concert grand |
New Styles From 1926:
| Style | Comment |
| --- | --- |
| 4a | Is less common, the styling is the same as the style 4 |
| 12 | Replaced style 7 and 8 from about 1925 to 1945. The numbering is reversed from about 1945: |
| 11 | Becomes model 1 Length: 9'2″ (280 cm)style 10 becomes model 2 Length: 7'8″ (238 cm) |
| 9 | Becomes model 4 Length: 6'10 " (210 cm) |
| 8 | Becomes model 6 Length: 6'3″ (191 cm) |
| 4a | Becomes model 10 Length: 5'5 " (166 cm) |
| 4 | Becomes model 11 Length: 5'1″ (154cm) |
Availability: If you're searching for a restored Blüthner grand piano, bear in mind the following information about the availability. We estimate there are about 30,000 used Bluther grand pianos in the UK, in the following proportions:
| model | size | availability | finish |
| --- | --- | --- | --- |
| 11 | 154cm | 1,100 | 35% mahogany, 35% black, 20% walnut, 10% other |
| 10 | 166cm | 550 | 30% mahogany, 40% black, 20% walnut, 10% other |
| 6 | 191cm | 250 | 25% mahogany, 55% black, 10% walnut, 10% other |
| 4 | 210cm | 50 | 85% black, 15% other |
| 2 | 238cm | 40 | 90% black, 10% other |
| 1 | 280cm | 20 | 99% black, 1% other |
Modern Blüthner grands from about 1958 to 1995: Unfortunately the "iron curtain" had an adverse effect on the Blüthner grand and the materials used weren't always of good quality. Be careful when buying a Blüthner from this period.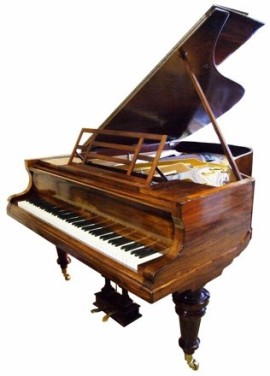 Modern Blüthner grands from about 1995: There are not many of these available, but they are generally of excellent quality, perhaps more suited to smaller rooms than the equivalent Steinway.
Aliquot Stringing: This refers to a system whereby an extra string was added in the treble section. In our view this unique idea doesn't really enhance the tone, though styles 8 and 6 fitted with this system are quite common and are excellent pianos.
Blüthner Uprights in the UK: Like the grand pianos, these have a mellow tone and smooth action. There are two main categories: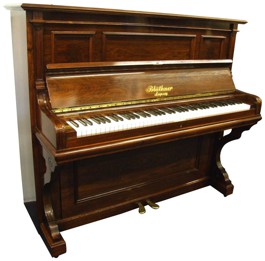 Overdampers: Straight strung and overstrung. These are by far the most commom Bluthner uprights (95% of pre 1920 Bluthners) dating mostly from 1880 to 1915. Overdamper means that the mechanism to stop the string after it's played is above the hammer, and it is not so efficient meaning that there is an echo effect. the damping is especially poor in the upper range of damping. About 50% of these are straight strung.
Underdampers: straight and overstrung: These date from about 1910 onwards and have a fine rich tone and the taller ones a superb action. Mostly rosewood (60%) or black (40%). About 80% are overstrung.
Restoration:Nearly all Bluthner grands and uprights are exceptionally well made and restore well
Important We've found considerable inconsistency in the tone of Blüthner overstrung underdampers (not the straight strung ones which are usually consistent in tone). They often have areas that sound "boomy" or patchy, particularly in the mid treble. Consequently we are very careful when buying Blüthners into stock. Should you find one for sale, we recommend getting a tuner to inspect it for you.