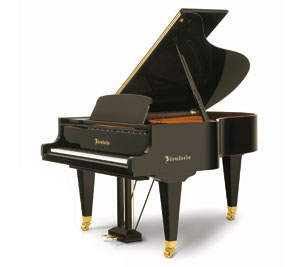 ---
We purchase Bösendorfer grand and upright pianos. If you are looking to sell your piano please (At this stage, you don't need to send any photographs, though they would be useful to assess more accurately how much your piano is worth.)
Bösendorfer
---
Established by Ignaz Bösendorfer
In 1828, Bösendorfer is the oldest piano manufacturer still producing its own instruments today and has had a history of producing some of the finest instruments in the world.
Established by Ignaz Bösendorfer
The Bösendorfer sound is usually described as darker or richer than the more pure but less full-bodied sound of other pianos like the Steinway or Yamaha pianos. On the Imperial Grand, this is due in part to the inclusion of 9 additional bass notes below bottom A (the Imperial Grand has 97 keys, compared to the more usual 88). The strings for these notes are not often struck, since very little music has been composed to make use of them. However, the strings for these notes do resonate when other strings in the piano are struck, and their presence contributes to the additional body in the tone of these pianos.
Reference: http://en.wikipedia.org/wiki/ Bösendorfer for more in depth information on Bosendorfer click here
Quotes
For a quote on your piano please with the piano make, model, serial number, estimated age and pictures of the piano. Other makes of piano that we are looking for: Bechstein, Bosendorfer, Fazer (upright), Feurich, Ibach, Kaps (upright), Kawai, Kemble, Knight, Richard Lipp, Sauter, Seiler, Steinway, Welmar, Zender… Please enquire for other makes.