Grotrian Steinweg
---
Were interested in this German make and are keen on both upright and Grotrian Steinweg grand pianos.
Brief information on Grotrian Steinweg pianos
Established by Friedrich Grotrian in 1835 with the philosophy of uncompromised quality. He teamed up with Theodor Steinweg in 1858, hence the name "Grotrian-Steinweg". Friedrich died in 1860 leaving his enterprise to his son. Several years later in 1865 Theodor sold his share of the company to Wilhelm and left the company. Grotrian continues in its production of top quality grands and uprights as it has done throughout 6 generations. For more information on Grotrian Steinweg please click here.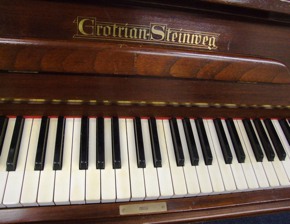 For a quote on your piano please contact us here with the piano make, model, serial number, estimated age and pictures of the piano. Other makes of piano that we are looking for: Allison (baby grand), Bechstein, Bosnedorfer, Fazer (upright), Feurich, Gors and Kallman, Ibach, Kaps (upright), Kawai, Kemble, Knight, Richard Lipp, Rogers (George), Sauter, Seiler, Steinway, Welmar, Zender… Please enquire for other makes.