15% discount on most of our acoustic stock! Please see our stocklists. Offer ends on 29/07/2017
Not applicable to rentals and certain pianos.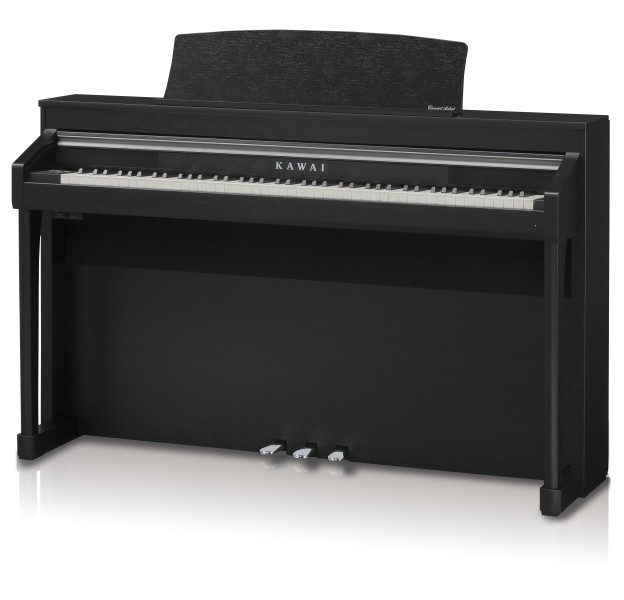 The CA97 digital piano captures the magnificent tone of Kawai's flagship Shigeru Kawai SK-EX full concert, and Shigeru Kawai SK-5 medium-sized grand pianos. Widely regarded as the 'premier pianos of Japan', Shigeru Kawai instruments grace the stages of concert halls and musical institutions throughout the world, and are prized for their exceptional tonal clarity. In addition, the CA97 also features the distinctive sound of Kawai's highly acclaimed EX concert grand piano, which has frequently been selected by professional pianists in such prestigious events as the Chopin, Tchaikovsky, and Rubinstein international piano competitions, among others. All three instruments have been carefully recorded, meticulously analysed, and faithfully reproduced with full 88-key sampling using the latest Harmonic Imaging™ XL sound technology. This unique process accurately recreates the broad dynamic range of the original grand pianos, affording pianists an extraordinary level of expressiveness ranging from the softest pianissimo to the strongest, boldest fortissimo.
Specifications

Keyboard
88 wooden keys with Ivory/Ebony key surfaces, Grand Feel II action with Let-Off and Triple Sensor
Internal Sounds
80
Sound Source
Harmonic Imaging™ XL (HI-XL), 88-key piano sampling, Grands: Shigeru Kawai EX, Kawai EX, SK-5
Virtual Technician
Voicing (incl. User Voicing per key), Damper Resonance, Damper Noise, String Resonance, Undamped Strings Resonance, Cabinet Resonance, Key-off Effect (incl. Key-Off Release), Hammer Fall-back Noise, Hammer Delay, Topboard Simulation, Decay Time, Soft Pedal Depth, Touch Curve (incl. User Curve), Temperament (incl. User Temperament), Key of Temperament, Stretch Tuning, User Tuning, User Key Volume, Half-Pedal Adjust, Minimum Touch
Polyphony
max. 256 notes
Reverb
Room, Lounge, Small Hall, Concert Hall, Live Hall, Cathedral
Reverb Parameters
Reverb Depth, Reverb Time
Effects
Stereo Delay, Ping Delay, Triple Delay, Chorus, Classic Chorus, Tremolo, Classic Tremolo, Auto Pan, Classic Auto Pan, Phaser, Rotary, Combination Effects x 4, Amplified Effects x 3
Effect Parameters
Dry/Wet, Time, Speed, Mono/Stereo, Accel./Rotary Speed – Parameters depend on effect.
Keyboard Modes
Dual Mode, Split Mode, Four Hand Mode (Volume/Balance adjustable)
Touch Curves
Light+, Light, Normal, Heavy, Heavy+, Off (Constant), User
Temperament
Equal Temperament (Equal Piano Only), Pure Temperament (Major), Pure Temperament (Minor), Pythagorean, Meantone, Werckmeister III, Kirnberger III, Equal Temperament (Flat), Equal Temperament (Equal Stretch), USER Temperament
USB functions: Audio Playback
MP3: 32 kHz/44.1 kHz/48 kHz, Mono/Stereo, Bit Rate: 8-320 kBit/s (constant & variable) WAV: 32 kHz/44.1 kHz/48 kHz, Mono/Stereo
USB functions: Audio Recording MP3:
44.1 kHz, 16 bit, Stereo, 192 kBit/s (constant) WAV: 44.1 kHz, 16 bit, Stereo, 1,411 kBit/s (uncompressed)
Internal Recorder
10 Songs, 2 Tracks, max. 90.000 notes
Metronome
10 beats, tempo, volume, plus 100 drum rhythms
Registrations
16 memories
Further USB functions
Load Internal Song, Load Registration, Load User Memory, Save Internal Song, Save SMF Song, Save Registration, Save User Memory, Rename File, Delete File, Format USB, Convert Song to Audio, Overdub Audio
External Media
USB Stick, USB Disk Drive, USB Harddisk
Other Features
SHS heaphone system, Headphone type, Key/Song Transpose, Tone Control (incl. User EQ), Speaker Volume, Phones Volume, Line In Volume, Line Out Volume, Audio Recorder Gain, Wall EQ, Tuning, Damper Hold, Four Hands, LCD Contrast, User Memory, Factory Reset, Lower Octave Shift, Lower Pedal On/Off, Split Balance, Layer Octave Shift, Layer Dynamics, Dual Balance, MIDI Channel, Send PGM#, Local Control, Transmit PGM#, Multi-timbral Mode, Channel Mute, Auto Power Off
Lesson Function
542 songs in total. Czerny, Burgmüller, Beyer, Bach, Chopin and Hanon (incl. printed score); Alfred books without printed score. Additional finger excersises with 4 scales (Major, n.Minor, h.Minor, m.Minor), 2 Arpeggio-, 2 Cadence- and 2 Chord practises each in all keys with scoring system
Piano Music
29 Songs
Concert Magic Songs
176
Display
128 x 64 pixel LCD with backlight
Pedals
Grand Feel Pedal System: Sustain (with half-pedal support), Soft, Sostenuto.
Key Cover
yes, hidden type
Music Rack
extra large with leather surface
Jacks
LINE IN (3,5mm Stereo), LINE IN level adjustable, LINE OUT (L/MONO, R), LINE OUT control, headphones x 2 (3,5mm Stereo and 6,3mm Stereo), MIDI (IN/OUT), USB to Host, USB to Device
Sound System
Soundboard Speaker System plus 4 x 7cm Top Speaker and 2 x 1,4cm Dome Tweeter
Output Power
2 x 45W + 45W Transducer
Power Consumption
Dimensions in cm
145,5 (W) x 46,5 (D) x 92,5 (H)
Weight in kg
85
Finishes
Premium Black satin, Premium Rosewood, Premium White satin
RRP
£3,222