General comment on choosing whether to buy a new or used piano (updated 2014):
Well over 100,000 people in the UK buy a piano every year but less than 10,000 buy a new piano. This is because of the following reasons:
- The height of the piano trade was from about 1885 to about 1940. The quality of piano making was exceedingly good during this period as every household that could afford one had a piano. An immense amount of work went into making top quality pianos, and a well restored top make from this period has a very rich warm tone and excellent touch. The cabinet work is also very well crafted. Top makes of piano often cost as much as a house!
- Modern pianos made by top makers from about 1960 to 1990 are generally made to very high standard and are often just as good as new. The trade still had many workers from the "old school" who worked for the top makers.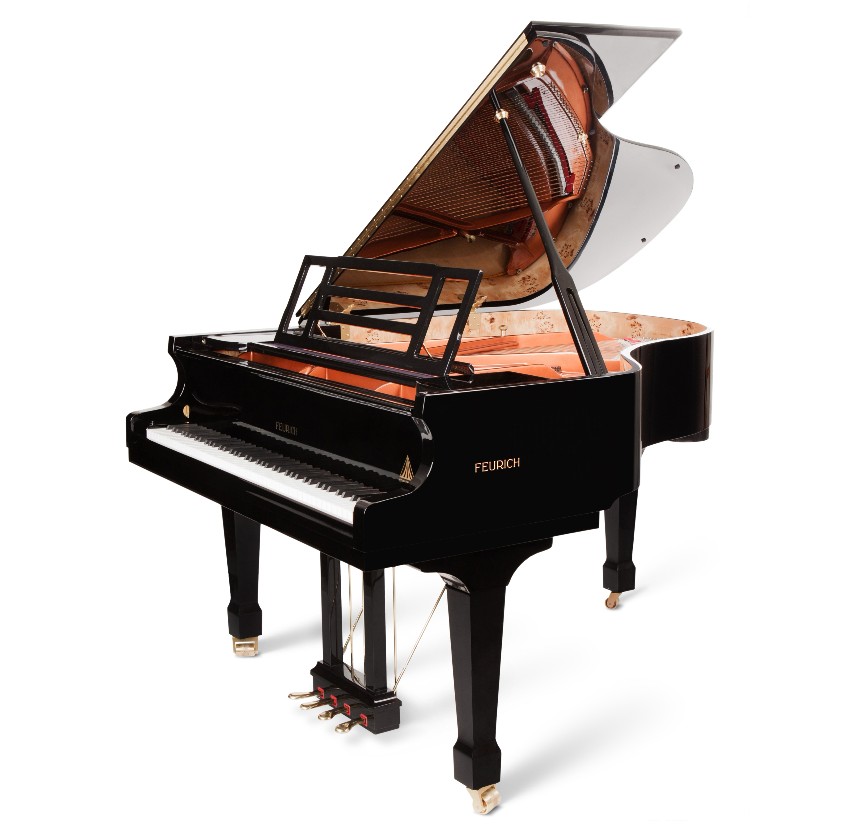 Feurich / Wendl and Lung 178 Grand Piano
What new pianos do we sell?
Having said that, some people prefer to buy new so we stock the best new uprights we can find under £5000 and the best new grands under £12,000. Our new stock comprises mostly of Feurich and Kawai grand and upright pianos. For a full list of new and used pianos for sale please view our stocklist.
The top makes of new piano are principally German and Austrian. These include Steinway, Bechstein, Bluthner, Bosendorfer, Grotrian Steinweg, Seiler, Sauter, Schimmel, Ibach, Wilh-Steinberg, Steingraeber, Feurich and some other smaller factories.
The Japanese also produce good pianos, but avoid the cheap ones as they are usually not made in Japan though having a Japanese name. Best makes are Kawai and Yamaha.
Tone and touch on new pianos.
The tone of new pianos is very thin on cheap ones and unfortunately can also be disappointing on cheap Japanese pianos makes too. Tone is very rarely as full and rich as with the top traditional pianos, simply because they are nowhere near as expensively made as they used to be. The factories listed above have a good tradition of piano making and their top range pianos generally have a fine full tone. Touch on cheap new pianos can be disastrous, being uneven and often on the heavy side. They don't wear well either, and often develop problems. There's really a great deal more variety than you'd expect, so try out the pianos before buying.
Feurich / Wendl and Lung
This traditional Austrian / German firm produces upright and grand pianos with a rich tone and smooth touch. Feurich / Wendl and Lung pianos are put together in China under the careful eyes of serious Austrian piano technicians, and then finished off in Vienna. They are very fastidiously made and in our opinion the best new grand pianos under £10,000 and uprights pianos under £4500 (2013 prices) . We stock the 161 and 178 grand pianos and the 122 upright piano.
Kawai
Kawai is our preferred Japanese piano maker and can offer any Kawai grand or upright piano from their range.For top makes of pianos, please see other pages in the top makes section