Top makes of German pianos (except those from East Germany when it was separated)
These are generally considered to be the best in the world, owing to their rich tone quality and good action, and can look stunning. Good looks are an important factor in our choice of which pianos to take into stock. I've listed the most common top makes we sell, but we also get others from time to time, if we consider them to be of high quality: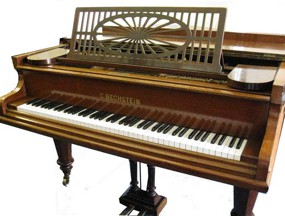 Bechstein Model A
Bechstein grand and upright pianos
Bechstein is the most common make of the top quality German grands and uprights. Model "A" (5ft 11in) and "B" (6ft 7in) sizes are the most common, mostly dating from about 1890 to 1925. Bechstein upright pianos are divided into 10 models, numbers I to V, and 6 to 10. We prefer mainly models 10, 9 and 8, dating from 1902. The majority are black, but we also get rosewood and mahogany, and sometimes "Arts and Crafts". Model 10s have a sweet and rich tone, while the 9 and 8 are more "serious" sounding.
Lipp grand and upright pianos
A Piano restorers' favourite due to their excellent design. They are all-round pianos with a rich tone, tending to have a light touch. Most are rosewood or mahogany. From about 1910 to 1925, Lipp made a 5ft baby grand which has an excellent tone for its size. Their longer grands can be superb. Lipp uprights, both straight strung and overstrung, can be exceedingly good pianos.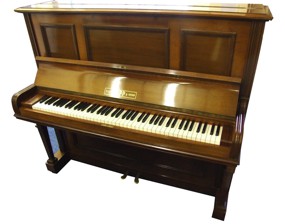 Richard Lipp
Steinway grand and upright pianos
Generally the best known and most expensive of the top makes, Steinways are very common in the concert hall. Powerful sounding, the older ones being mellower, the modern ones more precise. The most common Steinway grands are the Model O at 180cm followed by the model A at 188cm. The model B Steinway at 211 cm is very suitable for the small concert hall. Model C at 227 cm is not commonly bought. Model D at 274 is the concert size, and in our opinion still the best concert grand available. Older Steinway grands are richer in tone though less precise in the action unless carefully reconditioned. From about 1880 to 1910, Steinways sold a lot of model O and model A grands in the UK, most of which have stunning figured rosewood cases and an exceptional rich and powerful tone. The shorter model M at 170cm and model S which measures 155cm are some of the best small grands available but are not very common second hand. Steinway uprights are much less common than grands. They can be excellent, but older ones are as time-consuming as grands to work on, and are therefore often avoided by restorers.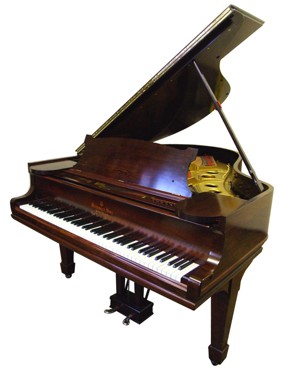 Steinway Model O
Bösendorfer grand and upright pianos
From neighboring Austria, Bösendorfer are highly regarded as concert pianos and have an extremely high quality action and subtle, powerful tone. Many pre 1910 Bösendorfers, however, have a "Vienese" action, which is not suitable for all-round playing. Upright Bösendorfers have a very classical sound and are ideally suited for the serious musician.
Blüthner grand and upright pianos
Blüthner "patent action" grand pianos were very popular from about 1880 to 1915 due to their famous soft rich tone and smooth light touch. Most of these are black, but we try to get mainly rosewood cases. Blüthner baby grands (With a measurement of 5ft or 153cm long) from the 20s and 30s are some of the best baby grands ever made, and we often have these in stock. Blüthner uprights are mostly overdampers, which we don't usually stock. However, the underdamper Blüthners between about 1915 and 1935 are superb pianos, with very rich tone and smooth actions.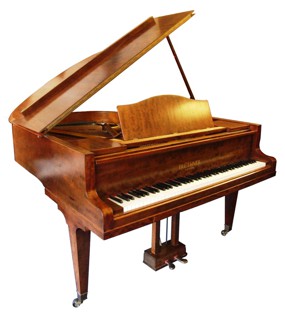 Blüthner Model IV
Grands and most common top quality German grands (in approximate order of availability)
| Make | Model | Length | Year | Un- reconditioned | Reconditioned |
| --- | --- | --- | --- | --- | --- |
| Bechstein Model A | Usually black or rosewood A beautiful all round grand with A smooth action and rich tone | 6ft | 1890 – 1925 | £2,000-£3,000 | £9,000 – £12,000 |
| Bechstein model B | Usually black or rosewood A beautiful all round grand. Deeper tone than model A | 6ft 7in | 1890 – 1925 | £2,000-£3,000 | £9,000 – £12,000 |
| Blüthner | Usually black or rosewood with a Very rich warm tone, mellower than Bechstein Smooth light touch. Patent action | 5ft 5in to 7ft | 1880 – 1915 | £1,500 – £2,500 | £8,500 – £11,000 |
| Blüthner baby grand | Roller action. Usually Walnut, mahogany or black with a Warm silky tone and smooth touch | 4ft 11in to 6ft | 1915 – 1935 | £2,000 – £4,000 | £9,000 – £15,000 |
| Steinway | Model O, Varied styles of casework | 5ft 10in | 1877-1935 | £5,000 – £8,000 | £15,000 – £25,000 |
| Steinway | Model A. Varied styles of casework | 6ft 2in | 1877-1935 | £5,000 – £8,000 | £15,000 – £25,000 |
(post 1950): These are much less common on the second hand market. The best ones that come up relatively frequently are: Steinway models O (5ft 10in) and B (6ft 11in). Model M (5ft 7in) and model S (5ft 1in) baby grands are good but not so common. For full details see the Steinway pages.
Modern Blüthners 1950-1990: Avoid modern Blüthners made from 1950 to about 1990 as these were made in East Germany while Germany was divided or just after reunification, and the materials used are not always good.
Other less common modern German grands are (in order of availability) Bechstein, Bösendorfer, August Förster (not recommended until about 2001), Ibach, Zimmerman (Not recommended except from about 1991 when Bechstein took over the factory) and Schimmell. Please inquire if you'd like further information about any of these.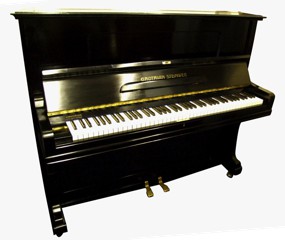 Grotrian Steinweg Piano
We stock fully reconditioned Bechstein, Bösendorfer, Blüthner, Grotrian Steinweg, Lipp and Steinway grand and upright pianos. All prices include free delivery to ground floor within 60 miles from our shops with a 5 year guarantee. Please click here to see our stocklist, including Steinway, Bösendorfer, Blüthner and Bechstein
German uprights
For information on German uprights, please see the uprights page. If you have any queries, then we would be more than happy to try to answer them. Please e-mail or phone. For full list of pianos for sale, please click on our stocklist
Sales History
Since 1983 we have sold pianos throughout the UK and abroad. UK sales from 2000 have included the following locations: Aberdeen, Abingdon, Amersham, Ascot, Aylesbury, Banbury, Bangor, Bedford, Bedfordshire, Berkshire, Bicester, Birmingham, Brackley, Bognor Regis, Bournemouth, Brighton, Bristol, Buckingham, Buckinghamshire, Burford, Chesterfield, Chesterton, Chichester, Chipping Norton, Chiswick, Colchester, Cosham, Coventry, Croydon, Deal, Dorchester, Dorset, Drayton, Dunstable, Ealing, Edinburgh, Emsworth, Essex, Fareham, Faringdon, Forest Gate, Gloucester, Goring, Gosport, Great Milton, Hambledon, Hampshire, Harpenden, Hartley Witney, Haslemere, Hayling Island, Heathfield, Horsham, Ilkley, Inverness, Isle of Wight, Kent, Kings Lynn, Leamington Spa, Leicester, Lincolnshire, Central London, West London, North London, South London, Maidenhead, Malvern, Manchester, Marlow, Meon Valley, Milton, Newbury, Northampton, Northants, Norwich, Oxford, Oxfordshire, Petersfield, Portsmouth, Reading, Rugby, Sheffield, Shrewsbury, Solihull, Somerset, Southampton, Southsea, Stafford, Stratford, Stoke Newington, Suffolk, Surbiton, Surrey, Stratford on Avon, Tangmere, Thame, Thetford, Titchfield, Tring, Tunbridge Wells, Twickenham, Twyford, Virginia Water, Wallingford, Wantage, Warwick, Waterlooville, Wendover, West Sussex, Winchester, Wimbledon, Windsor, Witney, Wokingham, Woodstock, Woolwich, York.