Information about Amyl Pianos
Piano Make
Amyl
Made In
London (the CWS brand name)
Rating When Reconditioned (see piano makes)
40-50; many Amyl pianos have loose tuning pins and the tuning is therefore unstable.
Estimated Number
Of Pianos In The UK
1500; all uprights
Date Of Manufacture And Serial Number
Not available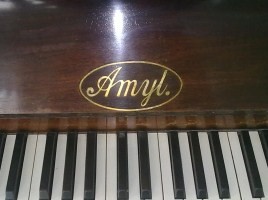 Comments on this make
Amyl is the Co-operative society brand name between about 1905 and 1930. Amyl are honestly made but mostly basic straight strung overdampers with a few overstrung underdamers. Casework mahogany or black.
All the Amyl uprights we've seen are like this one – straight strung and with a pressure bar which the strings pass under.
Back to common makes in the UK